Slow braising boneless beef short ribs in a wine reduction sauce is a rustic, earthy sensory experience. The meat maintains its shape but becomes so tender that it can be cut with a fork. It pairs well with a side of roasted vegetables, such as a mix of sweet potatoes, onions, and mushrooms.
This is a perfect recipe to try in the Winter when you'll appreciate the steaming heat that wafts out of the kitchen. The warmth and aromas invite guests in out of the cold. And by the end, all will be resting in a stupor of comfort.
If you have a butcher in the neighborhood, such as Staubitz Market in Brooklyn, ask for boneless beef short ribs. Prepare the beef, the wine reduction, and the braising vegetables separately.
Wine reduction: Chop up vegetables, mince the garlic, and gather the herbs. Toss all together into a large dutch oven and pour in the bottle of wine (such as a Syrah). When it just begins to boil, reduce the heat to low and simmer for 50 minutes. When it is ready, the wine should have reduced by half.
Short ribs: Rub meat with salt and pepper and then cover with flour. Heat grapeseed oil over high heat until it shimmers, then turn down the heat to medium-high and saute each side of the beef for 3 minutes. Set aside.
Braise: Chop up vegetables, mince the garlic, and gather the herbs. Set aside. Preheat the oven to 350 degrees F, then reduce to 325 degrees F when ready to begin the braise.
When the wine reduction is ready, add the mix of braising vegetables. Then using a cheesecloth to separate the meat from the vegetables, transfer the short ribs into the dutch oven, and cover with beef stock.
Braise in the oven for 2 hours with the lid on at 325 degrees F, until tender.
Using tongs, remove the meat from the pot once it is cool enough to touch. Slice the meat and spoon more juices over it to serve.
The braising liquid can either be used to braise more vegetables or it can even be pureed into rich sauce to spoon over the meat or vegetables.
*Recipe is adapted from Thomas Keller's Ad Hoc. It has been simplified.
Share and Enjoy!
A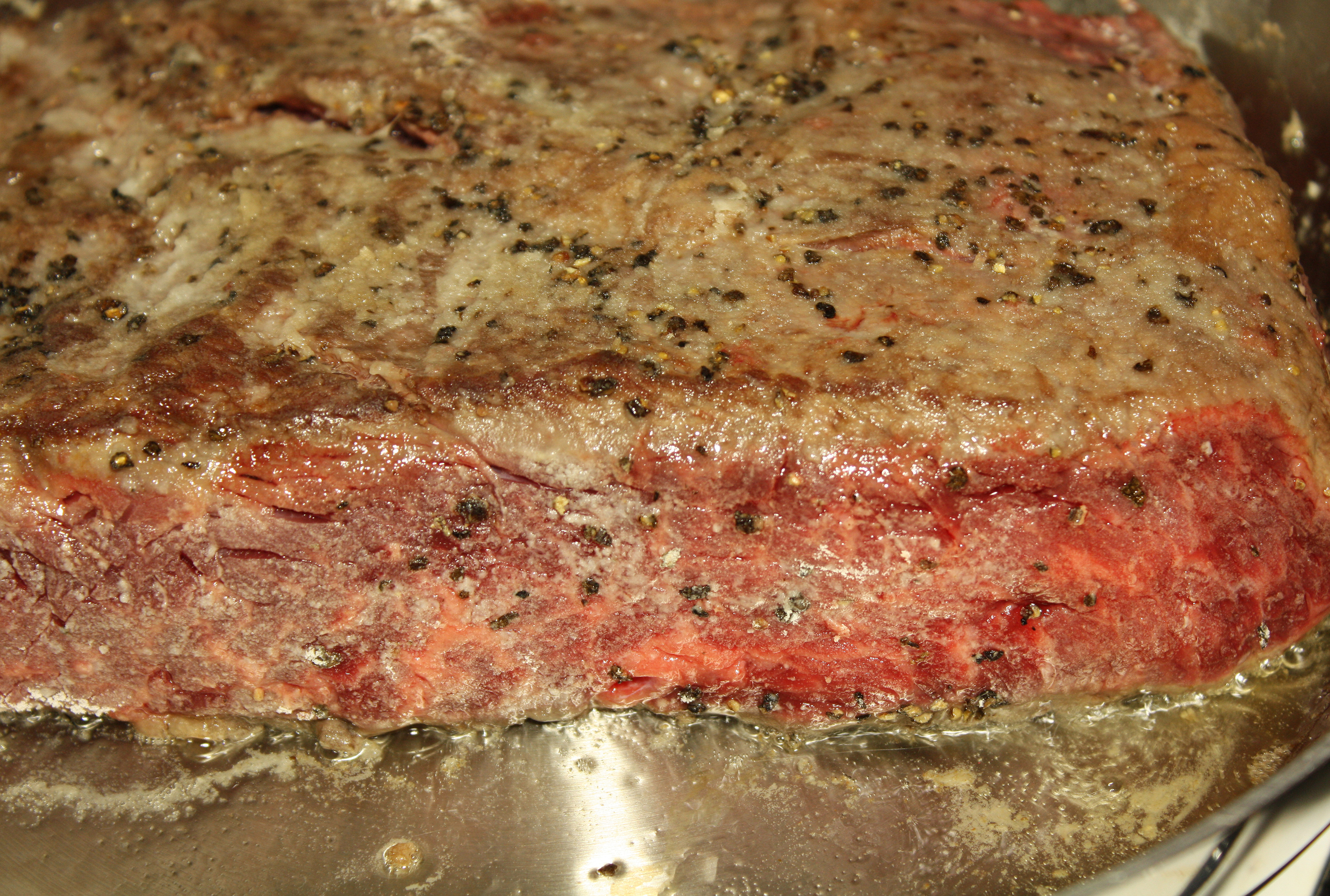 Ingredients
Red Wine Reduction
1 bottle dry red wine
1 cup diced yellow onion
1 cup half-inch sliced carrots
1 cup half-inch slices leeks
1 cup thinly sliced shallots
1 cup thinly sliced button mushrooms
3 thyme sprigs
6 flat leaf parsley sprigs
2 bay leaves
1/2 tsp. black peppercorns
2 large garlic cloves, smashed, skin left on
Short Ribs
2 1/2 pounds boneless chuck short rib
Salt and pepper
All purpose flour
grapeseed oil
Braise
1 cup diced yellow onions
2/3 cup sliced carrots
1 1/2 cups sliced leeks
2 garlic cloves, skin left on
3 thyme sprigs
2 bay leaves
5 cups of beef stock